---
Evaluate DesignFOIL FREE for five days! Click here to download the demo.
---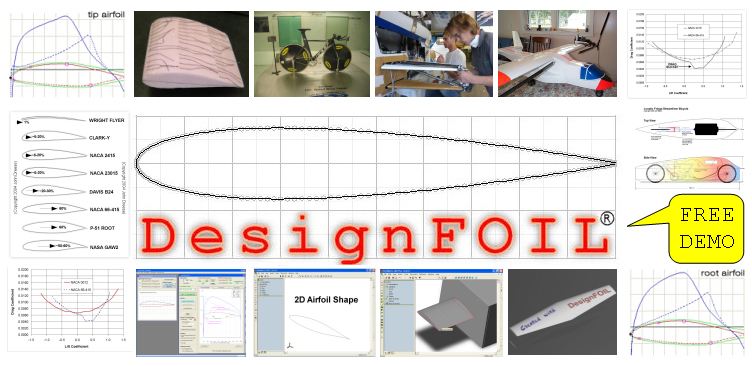 Lift Happens®: DesignFOIL can help.
---
"DesignFOIL airfoil coordinate design & analysis software will save you prescious time and frustration. When you use DesignFOIL, you're not just getting bits and bytes; you're getting 20+ years of experience embedded in a user-friendly interface. I'm so sure you'll find it the best value for your money that I've made a freely downloadable demo available below. Why not take it for a free test flight?"


-- John Dreese, DesignFOIL Programmer

---

Standard Windows Edition Only $9!

(Click to DOWNLOAD DesignFOIL Demo)
(Click to WATCH Video Demo/Tutorials)


User-Friendly DesignFOIL Features:
Quickly generate NACA airfoil coordinates with a mouse-click.
Quickly design and analyze airfoils with Virtual Wind Tunnel.
Import airfoil coordinate files (.dat & .dxf).
Import coordinates from DXF files.
Send all data directly to Excel.
New MyAirfoils window saves your work from session to session.
New WingCrafter lets you do wing layout analysis and exports to CAD.
Send airfoil and wing geometries to Gridgen, Pointwise and CMARC.
Camber modification tool & simple flap simulator.
Analyzes quickly.
Mix & Match tool.
In-depth help file with aerodynamics and airfoil primers.
Optimized for wide-screen monitors.
Workflow pattern optimized to save you time.
All NACA standard airfoil coordinate generators.
Drag polar display: Classic NACA & Eppler formats.
Export airfoil shapes directly to popular 3D CAD programs.
Download and try out the demo for yourself. It's FREE!
Software For Engineers, Designers & Draftsmen
By An Aeronautical Engineer


---




DesignFOIL is a Registered Trademark of DreeseCODE Software, LLC
Lift Happens is a Registered Trademark of John Dreese
The slogan "Lift Happens" is copyright 2007 DreeseCODE Software, LLC
Rhinoceros is a Registered Trademark of McNeel North America
Excel® is a Registered Trademark of the Microsoft Corporation
SolidWorks is a Registered Trademark of Dassault Systems.
CATIA is a Registered Trademark of Dassault Systems. Gridgen is a Registered Trademark of Pointwise, Inc
CMARC is a Trademark of AeroLogic, Inc.